Premium
Obtain a Master degree in Corporate Management
Corporate Management
1 opinión
I liked the combination of theory and hands-on experience since it was very important to me.
*Precio estimado
Importe original en EUR:
999 €/mes
Descripción
Tipología

Master

Lugar

Berlin (Germany)
Descripción
The Corporate Management Master of Science offered by Emagister and accredited by the University of Applied Sciences Europe is what you are looking for!


You will improve your skills through an approach that combines theoretical knowledge from the main disciplines of business administration with practical case-studies and research internships. You will further develop the scientific and soft skills you need to be more competitive in the current job market. In addition, lessons are scheduled in a way that you can have a side job while you complete your studies.


Depending on your needs and availability, you can choose to course the programme in two or four semesters, as well as pursue a double degree within the offer of the university.


Impulse your career and contact the University of Applied Sciences Europe through Emagister.co.uk to enrol in this exciting programme!
Información importante
Documentación
Curriculum Corporate Management (M.Sc.)
¿Qué objetivos tiene esta formación?:
With the master's degree in Corporate Management, you are perfectly prepared for various different leadership positions. Aligned with your individually chosen subjects of focus, you will be able to take on roles in middle to top management at national and internationally active corporations.

¿Esta formación es para mi?:
You can apply a year in advance for your desired starting semester. The Master of Arts (M.A.) degree enables you to go on to complete your Ph.D. studies leading to a doctorate. However, the individual institutions of higher education determine the entrance requirements and the terms of admission.

Requisitos: – Online application – Completion of a Bachelor's degree (4 years-Bachelor with 240 ECTS for the two-semester-program or 3 years-Bachelor with 180 ECTS for the four-semester-program, a German Diplom or Magister – Final grade of "Good" (GPA: 2.5), otherwise a letter of recommendation from the previous university – Focus on business within your previous studies (alternatively, you may attend preliminary courses) – Good English language skills (at least level B2) – Interview in English
Instalaciones y fechas
Berlin (Germany)
Ver mapa
comienzo
Septiembre
Matrícula abierta
Opiniones
Eugenia
Lo mejor:
I liked the combination of theory and hands-on experience since it was very important to me.
Curso realizado:
Diciembre 2016
¿Recomendarías este centro?:
sí
Materias
Personnel Management

Leadership

Business Administration

Marketing

Sales

University

Business and Administration

Administration

Business

Development

Human Resources

Corporate Management

Master

Leadership

Company Development

Leadership training courses

Corporate Development

Development
Temario
Course Programme
This Master's degree is offered in four semesters (requirement: 180 ECTS Bachelor) or as a compact version in two semesters (requirement: 240 ECTS Bachelor). In addition, you can combine two Master's programs at UE: with no or only one additional semester, you can complete Corporate Management as part of a double master degree.
Credit Points:
60 ECTS (in Accreditation) or 120 ECTS
Career possibilities include:
Business Administration
Marketing and Sales
Human Resources and Corporate Development
Highlights:
Focus on individual development and a flexible schedule (2.5 days/week). Practical projects, leadership training and optional double Master's degree. Teaching by renowned lecturers.
Información adicional
Next Intake is September 2020. All courses are going to start on campus as planned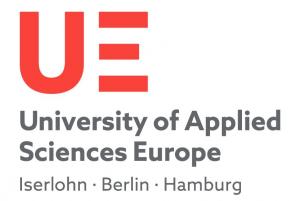 Corporate Management
*Precio estimado
Importe original en EUR:
999 €/mes